Flooring Tips to Maximize Your Room Space
February 23, 2020
The ultimate dilemma is when you're trying to fit your furniture and your room already begins to look and feel cramped. While all of us have basic furniture requirements, what often appears to be the case is that in our search for an ideal space that meets all our needs, we tend to occupy a space beyond its ability, and occupied spaces lack charm. Cramped spaces have a common tendency to reflect clutter rather than elegance.  
With minimalism, what started as a movement progressed to all fields and emphasized aesthetic simplicity. It was originally derived from the Japanese Zen philosophy. The Zen philosophy places its utmost value on simplicity as a means to achieve inner peace. What is often observed in Japanese architecture is the reflection of this simplicity and inner peace. Japanese aesthetic principles are always in search of the innate beauty in objects, giving value to their natural state. This is also known as wabi-sabi. Another principle in Japanese culture is ma, meaning emptiness, and it is the need for large open spaces to reveal a spatial emptiness, which further calls for the contemplation of essential forms. 
Minimalist architecture arose from the Cubist-inspired movements of De Stijl and Bauhaus in the 1920s. Architects such as Ludwig Mies van der Rohe postulated that minimalism gave maximum exposure to architecture. Minimalism broadly involves the use of simple design elements without the need for ornamentation or decoration. Proponents of minimalism are of the opinion that condensing the content and form of design to just the bare essentials reveals the true 'essence of architecture.' Some of the common characteristics of minimalistic architecture include the use of pure geometric forms, simple materials, neat and straight components, repetition to portray unification, simple open spaces, and clean lines. 
So Why Maximize Space Then? 
With the advent of every new design and architectural form comes a concept, which is predominantly appraised and made use of. Minimalism has garnered a lot of acclaim and is practiced by numerous design professionals worldwide. Since minimalism is all about maximizing your space, there is a greater demand to increase this space and limit the unnecessary. Sharp designs and clean lines can add to the charm of a room but according to minimalistic architecture, an open space is what contributes to the expression of thoughts and the description of personal emotions. Although furniture, equipment, and color are important in space maximization, the right choice of flooring is also an essential component in getting it right.  
Flooring Techniques to Maximize Your Space
1. Airy Colors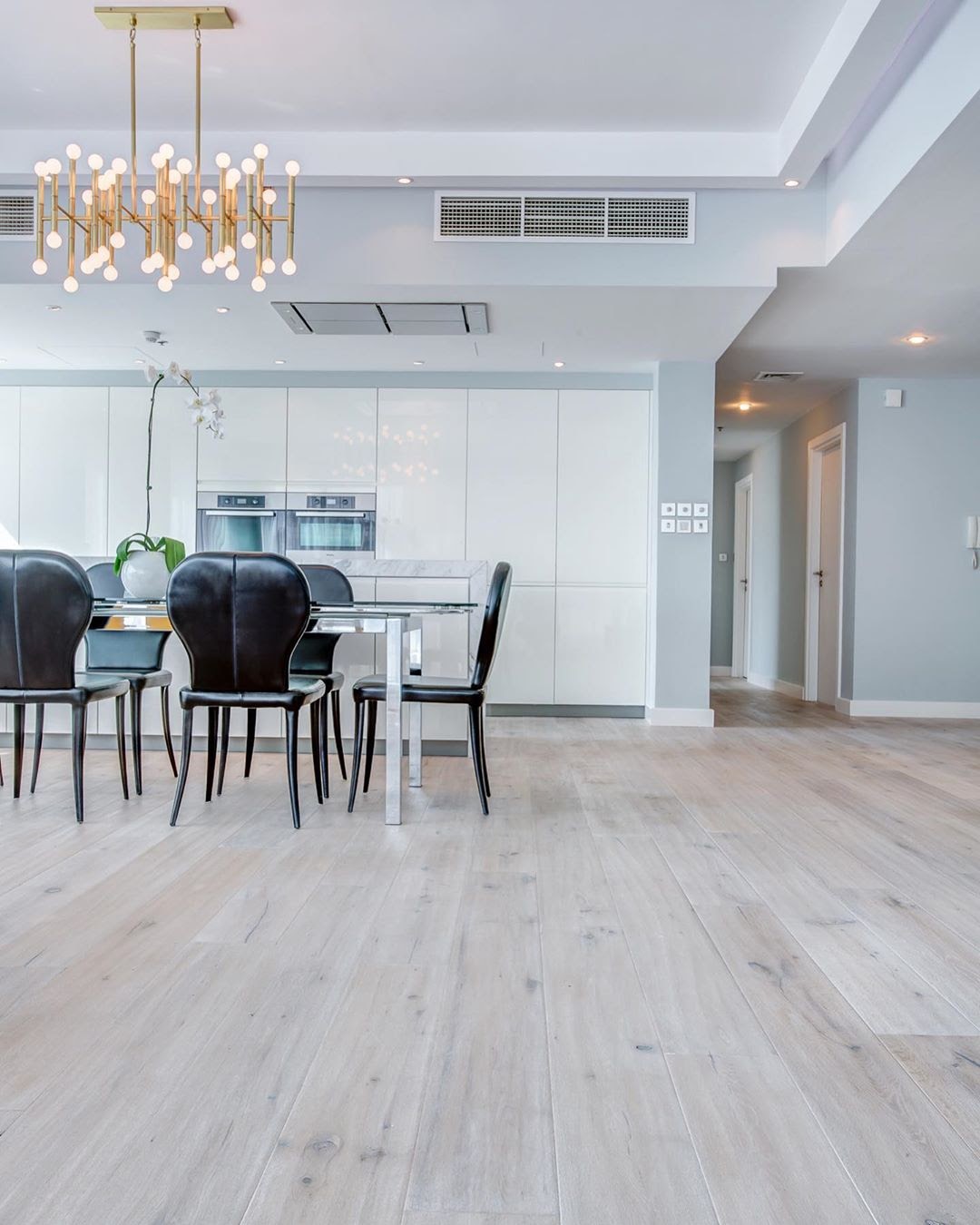 A selection of a lighter color palette in choosing your flooring is key to making a room appear spacious and airy. Along with the flooring, a variation of the lighter colors can also be replicated in the wall paint, furniture, and room décor. Beige colors are currently causing pleasant havoc in the industry as they add a touch of luxury and elegance. Light neutrals or even light wood flooring can immensely help in expanding the space in your kitchen, dining room, and living area. 
Wood flooring is the perfect choice when looking to add space as it makes for sleek sharp structures in comparison to other flooring materials that do not essentially portray the same unification. While choosing wooden flooring, opt for wider plank sizes that can help with the space-enhancing effect; just ensure that whatever you pick, includes lighter and subdued colors. 
2. Creative Division
Whether you live in a studio apartment or a villa, strategic division of your space can make your room look bigger. The idea is to divide the available space in artsy ways that can create an illusion whereby it looks more spacious than it actually is. Careful selection of different kinds of home flooring for different areas in your home adds to the illusion of increased space. However, attention has to be paid so that subtle color transitions are chosen to give the space a cohesive look whereas a more dramatic color can be used for spaces that serve an entirely different purpose. 
3. Pattern Selection
While some extremely busy flooring patterns, such as floral and intricate patterns, must be avoided in smaller rooms, some other designs can assist in making a room look substantially spacious. For example, vertical stripes in carpeting or wood flooring planks can help to elongate a space and make it coherent, thereby giving it a three-dimensional look while at the same time giving the illusion of increased space. One tactic is to identify the longest part of a room and apply the most visually stimulating vertical flooring there for optimal effect.
4. Plank Hardwood Flooring
When opting for hardwood flooring for a smaller living space, look out for planks instead of strips as they are usually 3 inches wider. There are other wide plank hardwoods that are five inches wide as well. With wide hardwood planks, there are fewer seams, which aid in maximizing space.  
5. Diagonal Installation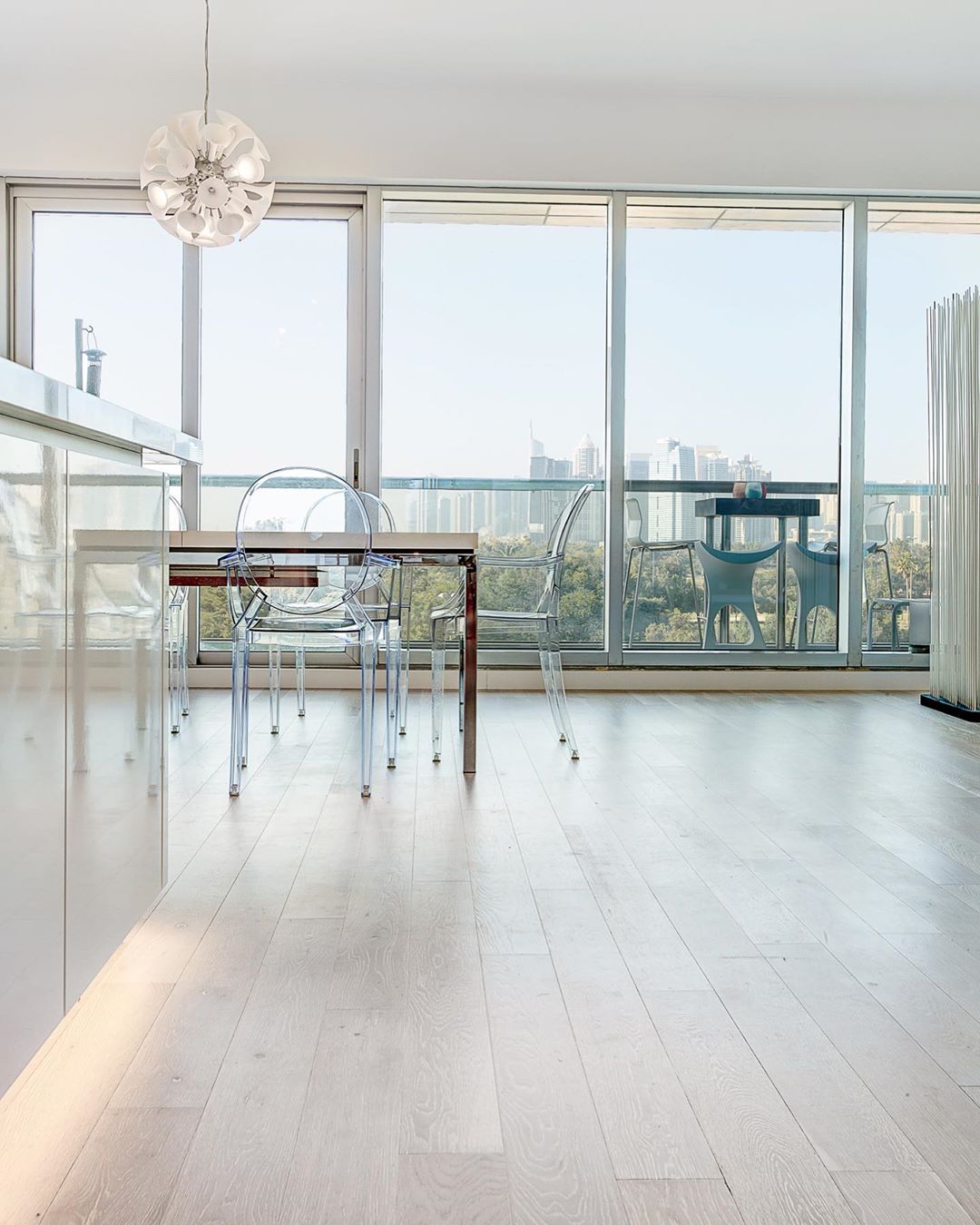 Another tip to make a small room appear larger is to install your flooring material diagonally. This aids by giving a different perspective to the room while at the same time expanding the space. A diagonal pattern also helps to create added visual interest in a space.  
6. Wall Usage
Once your flooring is decided upon, ensure not to cramp your room. The key is to only use furniture that you need. However, if you're left without enough room to store your belongings, make sure to use your walls to install furniture that can help you with storage. 
7. Maintaining The Harmony 
At the end of all flooring, painting, and furniture selection, it is vital to ensure everything blends in harmoniously. What we do not want is a collective mess of different colors, décor, and flooring. The aim is to create a perfectly blended space while adding variety and eliminating homogeneity. Your best bet is to keep the furniture and design pieces in the same basic color palette as your flooring to help enhance your space while adding subtle pops of color throughout. Additionally, you can also throw in a touch of dark, rich mysterious tones on far ends of walls to give the illusion that they are receding further back into space.
It is about time we rid our living spaces of a claustrophobic feel and opt for something spacious and airy. Your living space is not just to accommodate your physical presence but as the Japanese believe, it is a mode of self-expression and inner peace, and a happy living space is one where we can grow and thrive. Wellness is all about living with peace of mind and nothing defines wellness other than a living space that radiates positivity by making space only for the essential while ridding the unnecessary. 
To learn more about hardwood flooring and how it can be used for your space, contact us at https://nordichomeworx.com/contact-us/.