5 Common Myths About Wooden Flooring
August 15, 2021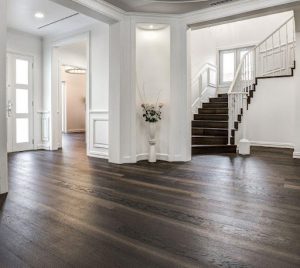 Wood floors have been one of the most sort-after home flooring options in recent times. They are beautiful and very versatile, which makes them an easily pickable flooring choice for many homeowners. However, along with the popularity, wooden floors have cropped up a lot of myths to the point of becoming facts over the years. Sometimes homeowners refuse to install wood flooring just because of myths- assuming it to be the truth. So here, we will debunk five myths about wooden floors and help you learn the facts. 
Wood Floors Are Expensive
Yes, installing wood floors is relatively expensive than other flooring options. But if you take the long-run picture, wood floors are the ideal cost-effective flooring options you can think of. When properly maintained, your wood flooring can last for a hundred years. Many other flooring options have a lifespan of only 10-20 years, provided that they are aptly maintained. Apart from this, unlike many other floorings, wooden floors can be sanded and refinished many times to restore the luster and beauty without replacing them like other floorings. So when you consider all these, wooden floors although with a reasonably high installation cost does more justice in the long-term, especially in increasing the longevity of a replacement and cutting down huge cost with servicing and so on. 
Wood Flooring Is Not Worth It If You're Planning To Move Out
Wooden floors add remarkable value to your house, which can increase the sales price of your homes even if you're planning to move out after installing them. On average, according to the opinion of many real estate agents, houses with hardwood flooring sell faster, and these houses also sell for a value of 10% more than houses with other floorings. So, for example, if a home is valued at AED 250,000, installing wooden floors can increase its market value to AED 270,000; in truth, this can also let you cover up for your installation cost as you move out, almost like a win-win situation. 
Wood Floors Don't Provide Any Warmth
Woods, in general, have exceptional insulation properties and, in truth, have ten times more insulating capabilities than aluminum or steel. They also have ten times more insulation capability than cinder concrete or blocks. Because of this, wood floors contribute significantly to warming your house with a touch of unmatchable aesthetic value. They also maintain the warmth from heating systems, radiant systems, and other HVAC systems in your home, increasing the total warmth of any space in your house. 
Engineered Wood Floors Are Not Real Wood Floors
Clearing it straightaway, engineered wood floors are "Real wood floors." Only their form of construction makes them look different from natural wood. Engineered wood floors are formed using multiple layers of wood composite veneers or wood. In contrast to this myth, you can get many laminated floors with a wood texture that are not natural wood or produced from wood. Going deeper, the only component of engineered wood flooring that is not wood is the adhesive that binds the veneers and the finishing coat, which is applied to the top of the veneer for preserving the wood surface.