5 Frequently Asked Questions About Wooden Floors Before Purchasing
June 8, 2021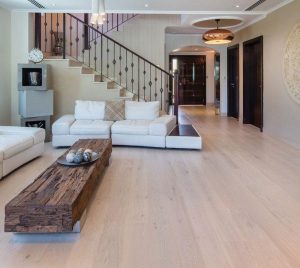 For some, purchasing wooden floors is a complex decision to make, especially because of the many questions that keep running in the mind. In truth, some put off the purchase just because they are confused and don't seem to find the right answers to all their questions. 
Installing hardwood flooring is a fairly costly investment, and so it's important to make sure you're making the right purchasing decision. Here we have put together a list of 5 frequently asked questions about wooden floors before purchasing and answers to them. 
Solid Or Engineered Wood Flooring? Which Is Right For My House? 
This depends on where you want to install one. As the name says, solid wood flooring has a solid piece of wood from top to bottom. It is usually recommended to use it in any floor space that is above the ground. Sand wood flooring can be sanded and refinished as and when needed. Living rooms, bedrooms, dining rooms, and kitchens are good places to install solid wood flooring. 
Engineered wood flooring, on the other hand, is manufactured using multiple layers of wood veneers. Due to their construction, engineered wood floors are more stable and less prone to temperature changes or humidity when compared to solid wood floors. Engineered wood floors can be installed in any room above, on, or below ground. They are ideal for slab and basement installations. 
What Type Of Wood Species Should I Go For? 
This depends on your budget, style, and preference. Generally, maple, cherry, bamboo, and oak wood flooring are what many opt for –considering the reasonable price. Wood species like walnut, ash, and mahogany are up in the higher price range. 
Whatever the species you choose, make sure to check on the Janka scale of the wood species. This gives a clear indication of how hard and durable the species are- so you can guess how likely it is to dent or show other general wear and tear. 
Which Wooden Floor Finish Is Better?
Usually, 
Gloss finishes reflect more light and equally shine well 

Semi-gloss finishes will reflect some light and shine to some extent

Satin or matte finishes will reflect light the least and usually don't shine as much to retain its matte look. 
The less shine you choose, the less you see scratches or other normal wear on the wooden floors. So it is a matter of your preference. 
What Are Unfinished And Prefinished Wooden Floors? 
The word says the unfinished wood floor is the raw wood, which you'll need to protect from wear and tear once installed. This will need you to add protective layers of wood flooring oil before using it (walking on it). Prefinished floors come as a ready-made product that is already protected. So you can use it as soon as it's installed. 
Do I Need To Order More Wooden Floors Than The Total Size Of My Floor Space?
Generally, you will need around 10% more wood flooring than the total size of your installation space. Especially if your wooden floor needs to go around the stairs closet, a bay window, or a fireplace, you will need more wood flooring. 
Your flooring will be trimmed to fit the space, and when it's cut, you want to be able to use it anywhere else, so you will need more wood flooring than the floor space measures.
Nordic Homeworx is a home flooring company in Dubai that can cater to all your hardwood flooring needs. Our team of well-experienced and skilled professionals can bring the floor of your dreams into life. Contact us for more information.