An Expert's Guide To Choosing The Perfect Flooring For Your Living Room
October 8, 2021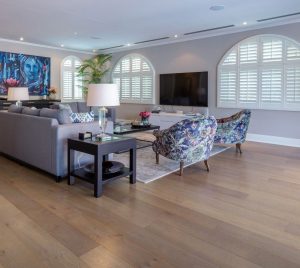 Choosing the perfect wood floor for your home may have a major impact on how your home appears and feels whenever someone walks in the door. It's also something you'll want to do right the first time because you'll be living with your decision for a long time. Numerous elements influence the sort of flooring you select, like your budget, the room/location, and your lifestyle. With so many different flooring options available today, picking on one may appear to be a daunting process. We listed a few facts to help you choose the perfect wood flooring for your living room. 
Consider the space
It is important to think about the size of the living room where the wood will be installed. The living room's size and form, as well as how it's lit, can all play a factor in choosing the best decision. Flooring functions similarly to wallcoverings and paint. Small spaces will feel more expansive with light colours, but darker accents will add warmth if needed.
It's a good idea to study several samples from the wood flooring company and design what you want to remodel. Otherwise, you can try out a sample; seeing them in place can help you better understand how they'll go in with the rest of the room's decor. It will also allow you to visualize how your new flooring will seem at different times of the day.
Consider the durability
The living room is the most common area where you and your visitors are engaged. Hence, you must consider whether it will be simple to replace the floor if it is damaged in a shorter period. If you have a long-term aim, be sure the floor you choose is as durable as possible. You'd also consider how simple the floor will be to clean, how well it will withstand stains, and how well it will look after a few times.
Consider the colours and your moods
Different colours produce diverse atmospheres and moods. Choosing crimson flooring, for example, might make a space feel cozier. Your flooring's colour can also make a statement about your personality. A more outgoing individual, for example, would choose bright colours like yellow, whilst a quieter person might prefer something darker or green. As a result, before deciding on the style or colour of flooring for your living room, you should think about your mood and characteristics. 
Maintenance and Budget
Sheet vinyl, vinyl tiles, and laminate flooring are low-maintenance options. A little mop around once in a while can keep them looking brand new. Aside from that, these flooring will maintain their appearance with minimal work. On the other hand, Wooden flooring is notoriously difficult to keep clean but still impressively glorious looking and health-friendly. Therefore, when you are implementing, you must consider the effort you must put into maintaining your living room floor.
Like everything else these days, Flooring can be relatively expensive than other housing applications, especially engineered wood flooring. Knowing your budget is important, but sticking to it is even more important. Calculate how much you have to spend and remain inside your budget.
Choosing the right flooring for your home may be a great way to give it a new lease on life. Following the tips above will help you make the greatest decision and create an environment you'll want to return to.