Bathroom Options: How To Select The Best Flooring For Your Bathroom Interior?
June 15, 2021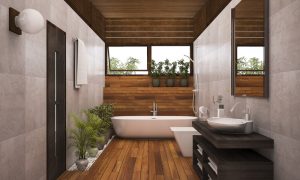 Many homeowners struggle in choosing flooring options that will match the interior of a house. Especially in a limited place like a bathroom, making sure the bathroom floor blends well with the interior, added with the focus on traffic and water resistance, takes a little thinking, 
Here we have put down ways to select the best flooring for your bathroom interior at ease with some small considerations. 
Consider light-colored flooring options 
It's always best to opt for light-colored flooring options for a bathroom. As bathrooms have limited space, less is always more – and keeping it minimal enhances the interior more effectively. 
Light-colored flooring gives the bathroom space more light and a sense of order and definition. It can also give bathrooms a shiny glaze, enhancing mirror reflections and visually widening the room. This makes the bathroom interior stand out and reflect its aesthetic looks more and not be overpowered by the flooring. 
Besides that, light-colored flooring appears cleaner and is easy to spot dirt on. This is why white and light-colored flooring options have always been, are, and probably will be one of the most commonly chosen colors for bathroom floors. 
Wood flooring can complement your bathroom interior perfectly 
White interiors and wood flooring have not been out of fashion for many years. Wood flooring has always had its style and charm that most other flooring options cannot replicate. 
Because of the limited space, most homeowners opt for light interiors within a bathroom to enhance an airy look. Dark interiors in a small bathroom space can darken up space and make it look air-tight. 
For houses with a light or neutral color-themed bathroom interior, wood flooring can add the perfect warm and comfortable feeling to it. This goes a long way in transforming your bathroom into a more relaxing space, to have a long soak, or to read a book in the bathtub. 
Installing a bathroom with wooden flooring is tricky and is controversial for many reasons- the right type of wood flooring, done by the right people, can get you the perfect aesthetic look for your bathroom –safely. Engineered wood is the best choice to opt for if you're looking to install wood flooring to complement your bathroom interior. 
Consider parquet flooring 
Wood parquet flooring is attractive, warm, and has a unique texture that can match well with pretty much any bathroom interiors. But like with hardwood flooring, people are often confused if it's right or how to do it safely in a way that will not mess up. 
There are many types of parquet, each with different resistance and durability characteristics. The different types are aimed to cater to rooms that are used for different purposes. Teak and Wenge parquets are two types that have a high-moisture level to make them more suitable for bathrooms and kitchens. 
Similarly, high-quality tropical teak is a type of parquet with high hard-wearing, stable and waterproof characteristics. It is also believed to be more resistant to moisture, salt, knocks, and other atmospheric agents- making it more suitable for outdoor flooring. All it takes is getting the bathroom flooring done by a professional, and everything else is about maintenance. 
If you're looking for a wood flooring company in Dubai, we at Nordic Homeworx can help you plan and execute the best flooring plan for your bathroom interior. Get in touch with us or visit our website for more information.