BEDROOM INSPIRATION: INDUSTROMANCE
April 25, 2016
The bedroom is one of the most important spaces in a home, and making sure that it is a calm, harmonious and tranquil space is an absolute must.
We are really feeling inspired by the "industromance" (industrial meets romantic) in this bedroom in Sweden via Stadshem Mäkleri. The combination of earthy tones and natural materials together create a very cosy and inviting feeling.
Seeing as the most important element in the bedroom is the bed, especially considering that we spend on average 25 years(!) of our lives sleeping- it is best to ensure the mattress you select is comfortable and of a high quality standard. A great option for high-quality mattresses is the Dream Mattress by Celeste. The Dream Mattress was specially designed for the hot weather of the UAE, and regulates air flow and restores your energy while you sleep. Definitely worth the investment!
We suggest pairing Celeste's Dream Mattress with a simple, nearly-invisible base and cosy white linen sheets for a Scandinavian look. Add soft details such as a beautiful pendant lamp, rug, cushions and art with a little bit rougher, industrial-style accents such as a floor/table lamp, wire basket, and clothes rack.
Complete the look with a rustic wood floor with a slight grey tint, such as Möre by Kährs Småland Collection. Möre is a rustic floor with a scraped, flowing surface that high enhances the structure in an natural way, where the cold grey tones appear to have been worn down, revealing a warmer base.
We love the combination of the hard and soft textures in this industromantic bedroom!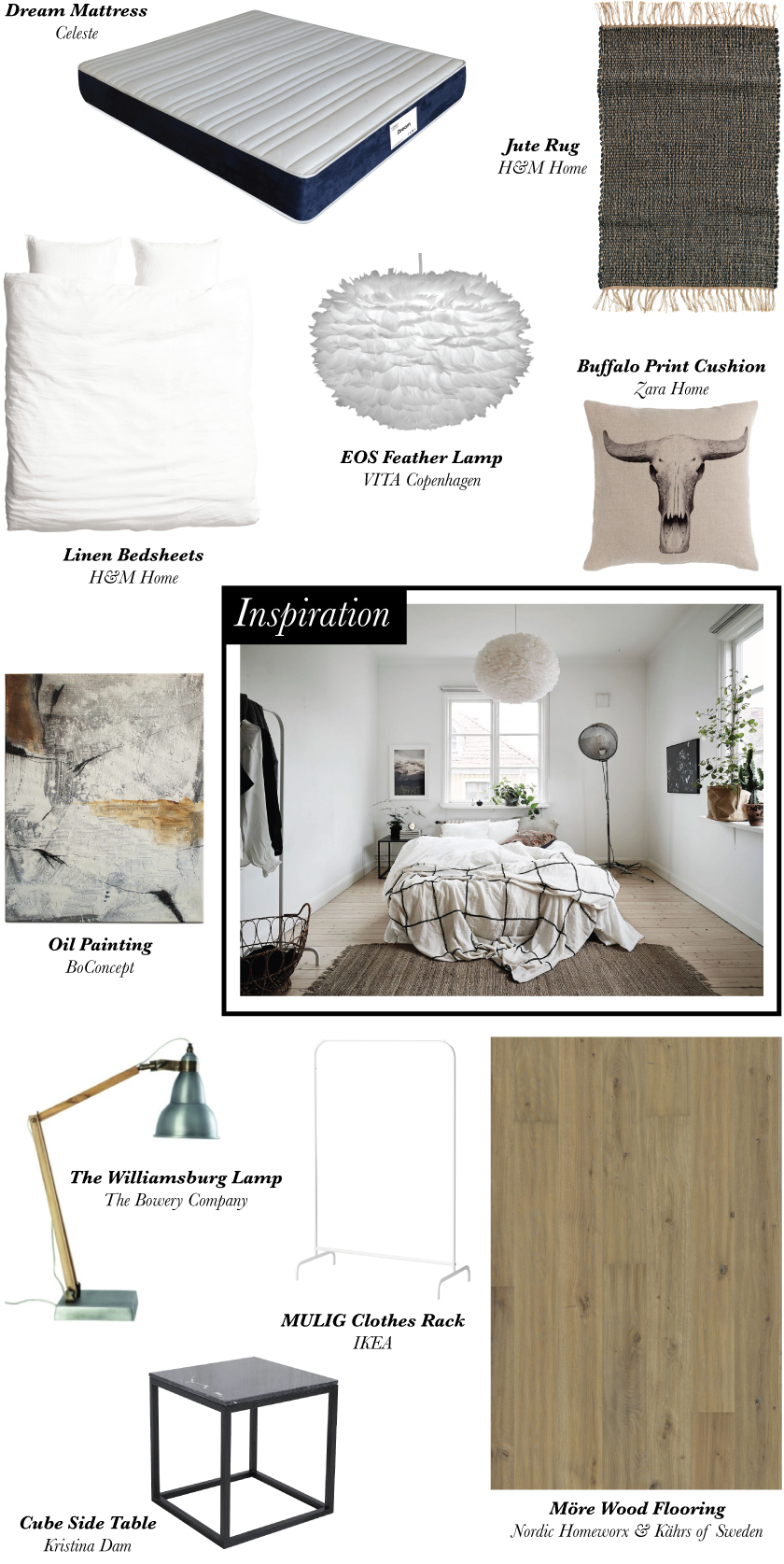 Dream Mattress | Jute Rug | Linen Bedsheets | EOS Feather Lamp | Buffalo Print Cushion | Oil Painting | Bedroom Inspiration Image | The Williamsburg Lamp | Clothes Rack | Cube Side Table | Möre Wood Flooring
#woodflooringcompanydubai #woodflooringdubai باركيه #الأرضيات الخشبية#