Crucial Things To Consider Before You Install Wooden Flooring
October 15, 2021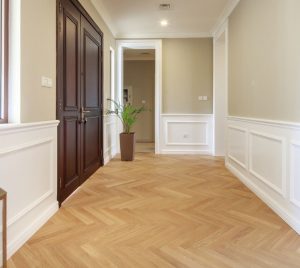 Wood floors are becoming more popular in high-end residential construction. According to an increasing number of designers and end-users, Engineered wood floors are the preferred flooring surface in luxury construction. The reasons for this are not difficult to comprehend. They look great, are simple to install and save a significant amount of project time. However, prior to the installation, you have to consider a few facts and consider; we have listed below.
The location you install
This is the topmost important consideration since it directly relates to the durability and appearance of the wooden floor. In the kitchen, water may spill on the floor, or a heavy object may fall from the counter. Hence, the kitchen is one of the most heavily trafficked areas, necessitating the most durable floor type. The type of floor you choose is determined by the location of the kitchen, humidity level, and the substrate on which the floors will be installed. Engineered hardwood is sturdier and humidity-resistant, making it an excellent choice for kitchen installation. On the other hand, solid wood flooring is built entirely of a single wood species; liquid spills and moisture can cause the wood to warp over time.
Family and visitors frequently congregate in the living room. Installing hardwood flooring allows you to express your identity. You can choose any alternative – engineered or solid – to decorate your living or bedrooms. Both look great and provide your home with timeless elegance and an opulent atmosphere. Traditional to contemporary, Scandinavian, and Mediterranean styles, such flooring looks great in various settings and decor.
Heat and moisture levels
This is an important point that is frequently neglected. In nature, wood is highly responsive to moisture and heat. This is true of all wood types. You should think about how much natural light enters the room where the floor will be laid with the moisture. It's an important consideration since a poor choice might detract from the overall design of your room.
It's critical to allow your hardwood flooring to acclimate properly once it's been delivered to your home. Allowing your hardwood flooring to acclimate to your home reduces the likelihood of damage once it is installed. Before you begin the installation, make sure your floor is delivered in plenty of time. Place the hardwood flooring in the room where it will be put, still in its packing. The space in which you are planning to install wood flooring should be completely dry. The hardwood should not be left on a wet floor or in an area where the walls are moist with plaster.
Prepare the subfloor
It is critical to prepare your subfloor prior to installation properly. It is possible that your flooring will be damaged if it is not done correctly. The most crucial things to look for are flat, level, clean, and dry subfloors. Make sure your subfloor is flat and level with a spirit level. If it isn't, you'll need to line your floorboards with plywood if it's a wooden subfloor or applies a self-levelling compound if it's a concrete subfloor. Your subfloor must be well-cleaned. Hence, make sure to remove any remaining chemicals or adhesives from the subfloor, then sweep away the dust and grime. The wood flooring company will also provide you with instructions on preparing your subfloor in further detail.
Collect proper instruments
It is always a good decision to hire professionals for your installation. But if you are planning to do it yourself, when beginning any activity, it is usually a preventive idea to have the proper equipment because it helps you to perform quickly and effectively. Consider what you or the installer might require while installing your hardwood floor.
No matter who does the installation, having the proper equipment may make your process smart and good-looking. But we always recommend you hire a professional wood flooring company instead of doing it yourself to prevent costly mistakes and get the most bang for your cash. Our high-quality work assures that your wood flooring will survive for generations and that you will not experience board buckling or cupping.