HOW TO TAKE CARE OF WOODEN FLOORING
April 17, 2017
This is a guest blogpost by Caroline Modig on how to care for your wooden flooring and get that timeless finish!
Anyone can vouch for the fact that hardwood flooring is one of the most beautiful design investments that can be made. Its timelessness not only reflects the owner's impeccable sense of style but also adds character to the space. The colour of the wood, the richness of grain and the exclusivity of it all makes it an alluring flooring option. While classing up the look of a room, wooden flooring can be easily cleaned and a little extra love and care will keep them looking new for a long time to come! So, to keep your wooden flooring protected at all times, especially from damages long-term wear and tear, you must: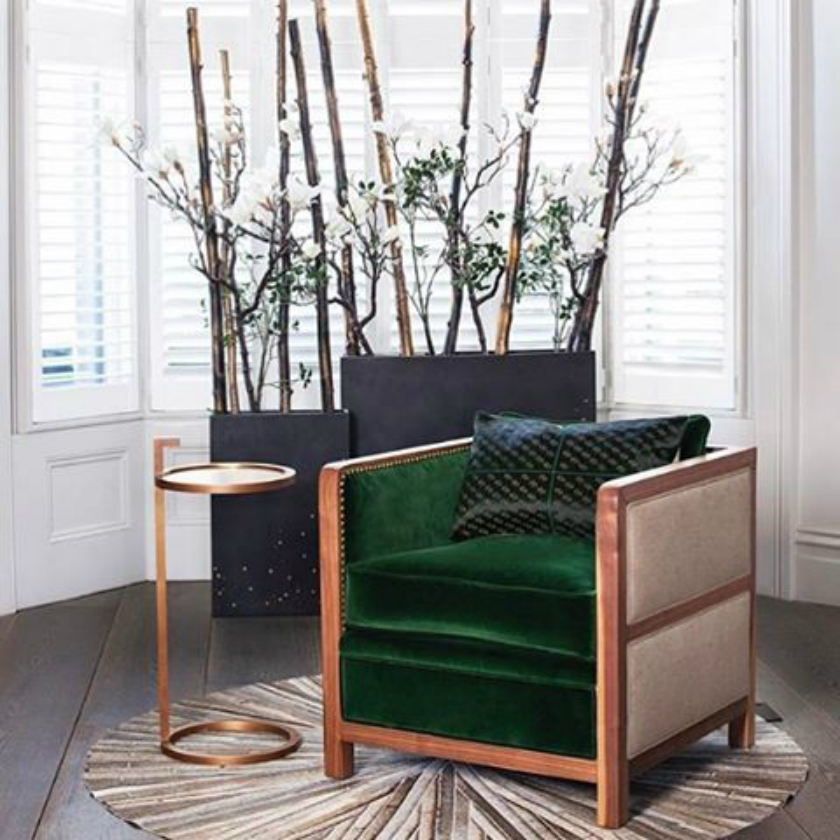 • Vacuum lightly or sweep your floor daily with a soft-bristled broom to prevent build-up of dirt, dust and other particles that may scratch the wood's surface. You can even use a dry microfiber mop to remove the grime that accumulates between the floorboards.
• Try to limit the exposure to direct sunlight by using protective window coverings/blinds to ensure your wooden flooring ages evenly. You can also try and rearrange your furniture periodically to avoid uneven ageing.
• Ensure you get the floors cleaned by a professional or by using a specialised hardwood floor cleaner. The frequency of this activity depends on the kind of traffic and wear and tear the floor goes through. You can even supplement that by adding a maintenance coat every few years or go old school by using the sand and refinish method whenever necessary.
• Prevent moisture damage using a dehumidifier. Moisture damage is common in wooden flooring, but that doesn't mean damage due to liquid spills (which you must ensure gets cleaned up immediately), but rather damage due to the climatic moisture changes.
In addition to the regular maintenance tips mentioned above, keep the following guidelines in mind to ensure your wood floors look timeless!
• Avoid using use vinyl or tile cleaning products on hardwood flooring.
• Do not use a wet-mop or steam mop to clean wooden flooring as the water can dull the finish and damage the wood.
• Use throw rugs at doorways to help prevent debris from being tracked in and scratching the floor.
• If your wooden floor starts looking dull, try buffing instead of waxing it with acrylic waxes to avoid the flooring from becoming slippery.
• Do not over-wax a wood floor. If a wax floor dulls, try buffing instead. Avoid wax buildup under furniture and other light traffic areas by applying wax in these spots every other waxing session.
• Be selective about the footwear used on wooden flooring. Shoes such as high heels and sports cleats can scratch the surface of the wood and even leave dents on the surface. Pro Tip – Do not wear slippers or footwear while cleaning your flooring as the dirt particles can get trapped under your footwear causing additional scratches.
• Consider investing in an area rug! It prevents wear and tear as well as scratches and scuff marks in high traffic areas. You can choose the area rug to accent the look you want to achieve depending on the style and finish of the wood you've chosen.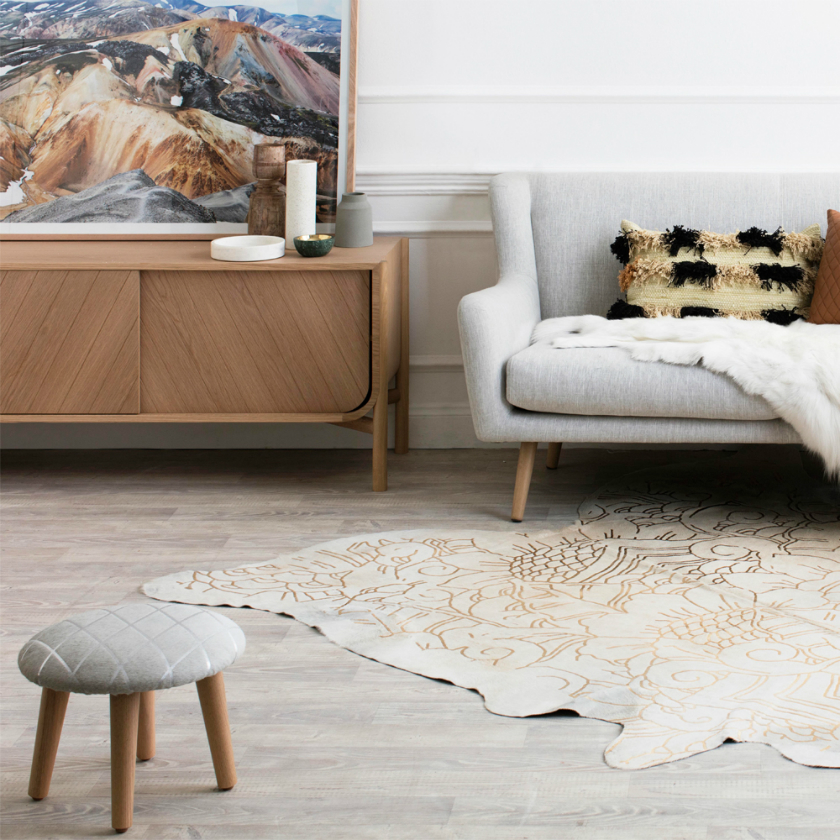 Image credit: www.arthide.co
Pro Tip – The material of the rug can also impact the qualities of the wood, so choose a rug made from natural fibers to avoid damage due to contact of synthetic materials. There are a variety of hand-woven designs to choose from. You can even opt for a luxurious cowhide rug which is both natural and hypoallergenic making it a perfect addition to your natural wood flooring. Take a look at some beautiful floor-rug pairings and get inspired!
• Colour Contrast – Pick a rug that is a complete contrast to the flooring, this will make the rug the focal point of the room will pulling attention to your beautiful hardwood flooring.
• Match the floor – You can even match the rug to your flooring for a beautiful design accent that adds to the overall appeal of the room, while ensuring the floors remain the focal point of the room.
• Tie it in with the upholstery – Match the rug to your upholstery instead of your flooring and add a unique touch to the place while tying in the rug with the desired look.
• Secondary colours – Many hardwood floors have multiple colours in through their grain, you can choose to match the rug with the secondary colour to create a beautiful blend of textures and colours.
Author Bio:
Caroline Modig works at Art Hide and oversees their marketing and promotional efforts. Her passion for interior design and the knowledge she gained over the years allows her to find time from her busy schedule to write informative blogs about interior trends, popular styling tips and everything related. When she isn't working or writing, you can find her relaxing to some contemporary jazz while solving puzzles.