Stunning Floor Ideas: How To Select The Right Plank To Add Elegance And Style To Your Living Room
May 1, 2021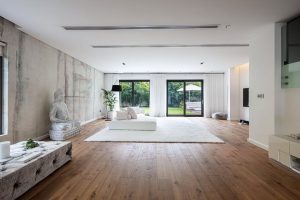 Once you have decided to install wooden floors in your house, you need to pick up the right planks that fit into different house areas. The proper selection can enhance the look of your flooring and fill your home with elegance. The house's living room takes prominence here as it is a place where everyone gathers, including visitors. Hence, this article will look into a few stunning ideas for your living room flooring and select the right plan to add elegance and style.
Stunning Floor Ideas For Your Living Room
Depending on your living room's size and lightings, you need to select the wooden plank shade for your flooring. If you want to add more liveliness into space, lighter or whitewashed shades are preferred over darker tones.
Make sure to think of the wall and furniture colors too when selecting the floor. The dark hues can easily blend with wall colors. Cleaning and floor traffic also needs to be taken into account here. If you want a more rustic style, you can opt for honey and blonde woods.
Mixed hardwood is another choice that you can consider in your living room. A mix of dark and light timber hues will never go out of style and can give a more authentic look to your premises. You can check out the color variants of oak, maple, and cherry wood species to get a perfect combo of hues.
Use Textures For Authenticity
If you find a single plank width and size is boring and looking for something more exciting, parquet patterns will be an ideal option for you. The textures can add character and richness to your home flooring with a classy look. 
Herringbone is the most popular parquetry style, which comes in double, square, and single sizes. These rectangular wooden blocks are placed at a right angle to each other. The design helps to make your living room more spacious. 
Chevron is another wood parquet that can add instant luxuriousness to your space. It enhances the visual lines with diagonal lines and resembles a parallelogram. The exotic look of the chevron can increase the elegance of the premises easily.
Select The Right Plank Size
If you have a spacious living room, you can opt for wider planks without hesitation. However, if you do not have much of a space selecting big planks would not be the right option as it can make the room look more narrow or smaller.
If you have a small or moderate living area, choose between 3″-5″ plank sizes. For larger areas, plank sizes ranging from 6″-8″ would be the ideal pick. You can get instructions from home flooring professionals on choosing the correct size.
The right shade, texture, and size can bring the best from your wooden planks and upscale your home living area to a premium level. If you plan to change your home flooring and are looking for a wooden flooring company in Dubai, visit Nordic Homeworx for the most refined wooden plank shades and textures. Our world-class professionals are happy to help and bring the best look to your premises.