Using Oak Flooring To Make Your Home Cozier
March 9, 2020
To feature a cozy concept in your home, many considerations need to be made to get the right look. A proven way to ensure that your home perfectly retains its individual style is to install oak flooring that can define cozy in a stylish yet classic manner. Oak wood is a sturdy, balanced and beautiful type of wood that can be styled in multiple patterns to give your home the desired cozy feel. The following list of reasons will convince you as to why you should install oak flooring to make your home cozier. 
1. Oak Wood
Oak as a wood tree species is a famous one that grows in all kinds of climates and is present in countries all around the world. This hard tree species is used for various crafts and furnishings thanks to the unique grain, texture and natural oils that it produces. This gives the wood a very natural, sleek and perfect look for spaces in need of warmth and coziness. Installing oak floors in multiple colors is possible because it stains well when chemical dyes are used to color the wood. This also applies to chemical treatments, such as providing a high gloss or a matt finish. that is retained well by the wood. 
Oak wood is offered as both hardwood and in combination with ply to suit your needs. This allows you to either purchase customized flooring or use generic engineered wood floors depending on your budget. It also affects the convenience of installing oak floors along with the technique and materials needed to do so. Many homeowners also use oak floors as a wall installation in their room to extend the original and warm look of a room. Consulting a home flooring company to find the perfect stain of oak floors for your home's interiors and decor is always recommended.
2. Versatility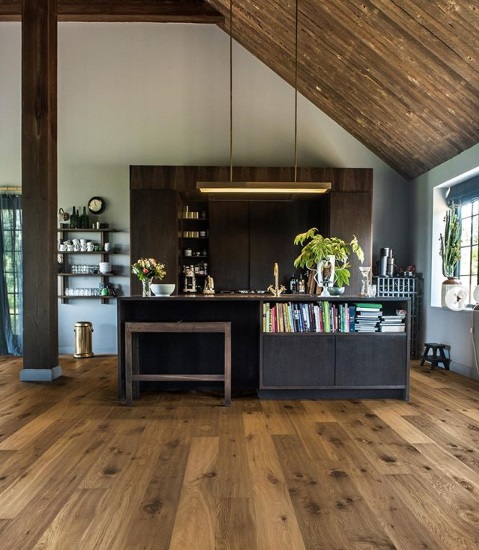 Most, if not all, professional wood flooring installers prefer oak floor installation for its versatility to adapt to any theme of home decor and its incredible strength. Oak as a wood flooring is really strong and durable and is hence offered as a hard wood flooring option in thin as well as thick measurements. Unlike other woods, oak floors are easily stained despite its natural color and can be cut into any shape and size. This allows for oak to be arranged in the herringbone pattern where wood planks are arranged in a V shape or even in a checkered pattern. 
The nature of the wood also allows the wood to retain many kinds of finishings such as the original oiled appearance, one with a glossy effect or a classic matt look. The wood can also be painted or burnt to add to its textured look and bring about a distinct pattern. Such modifications add to its versatile character and make it a popular choice in wood flooring. The specialty of oak floors includes blending in with any color or texture of wall paint or wallpaper while also standing out in a subtle yet defined manner. Its unique features allow for oak wood floors to contribute a warm and cozy look to multiple interior designs.
3. Maintenance 
To add to the harmony of your room's look, it is necessary for wood floors to withstand and enhance any and every change that is brought to it. Oak floors are sturdy by nature and therefore moving heavy furniture over it does not cause any damage or harm. It is also very easy to maintain oak wood flooring given the natural oils that are contained within its grain texture. With this kind of texture, any scratches or minor damages that the wood experiences are well blended and makes the floor look otherwise impeccable. Additional protective layers that are applied over the natural oak wood help preserve and protect it for longer.
It is also moisture resistant, which increases its product life and makes it nearly impossible to decay or change its shape when it comes in contact with water. This decreases the possibility of the wood warping or twisting over the course of its use. To ensure that your floors remain in their optimum condition, a refurbishing company can help service it and maintain its pristine look for longer. This will also remove any stains or scratches that have been imprinted onto the surface of the oak floors. To know the specifics of maintaining your oak floors it is advisable to consult with a certified wood flooring company for their expertise.
4. Picking the Correct Fit
To ensure that the right stain and type of oak wood has been chosen for your home, this small guide of tested and tried ideas will help assure you of your choice. For a cozy look that tends to be more traditional, installing red oak floors is highly recommended. For a more modern look with oak floors, a white oak floor choice would be a better pick. These suggestions work best depending on the lighting available in your room alongside the theme established by your home interiors. A home flooring company can further help you decide which oak floor would best make your home feel cozier.
For a timeless design, darker stained oak floors are highly recommended. The dark tones can bring out a classic yet contemporary look in any home irrespective of its infrastructure. The darker shades  also help bring in more warmth, which can help boost the coziness in any room. This tone also complements rugs and furnishings making the interior designing much easier. Aged oak flooring that offers a caramel hue is also a good idea for those going for a combination of cozy and rustic. The house can be made more inviting with the installation of dark and caramel hued oak wood flooring. 
If you would instead prefer to install lightwood flooring while also maintaining a cozy environment, pale colors such as limestone or oak wood with white stains would be suitable. A semi-transparent white stain 3-strip oak floor allows the subtle warm oak tones to softly filter through the stain and provide a cozy look. This is done by balancing out the light and dark contrasts in the wood made possible with an ultra-matt lacquer finish. A powder white finish with soft contrast on a 3-strip oak floor would also be a good choice for a combination of lightwood flooring with a cozy setting.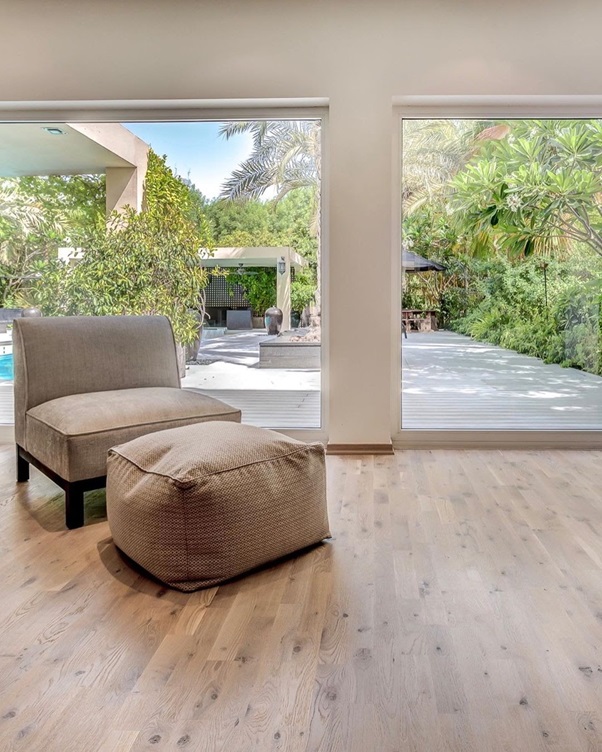 To install the ultimate cozy look in your home, opting for floors that are matt lacquered would be the perfect choice. This finish ensures minimum glare reflected from the floor, further adding to the warm and cozy feeling of your home. A clean wood grade with some color variation can further make your space more inviting and comfortable. It is also important to consult with an advisor from a reliable wood flooring company who can offer you specific options to choose from for your space. Cozy interiors often include rugs, fluffy throws and blankets with soft textured pillows that will set well with any stained oak floors. Perfecting the interior decor will be an easy task once you establish your flooring choice.
Visit a home flooring company today and start your home renovation with the right advice and expertise to create a cozy home with the perfect oak wood flooring.