CATCHING UP WITH NATASHA
August 17, 2015
We recently caught up with one of our clients, Natasha Singh, Senior Sales Consultant at House Hunters Dubai, to hear what she has to say about her experience with Nordic Homeworx and how she's enjoying the Kährs Oak Oyster wood flooring in her family's Arabian Ranches home.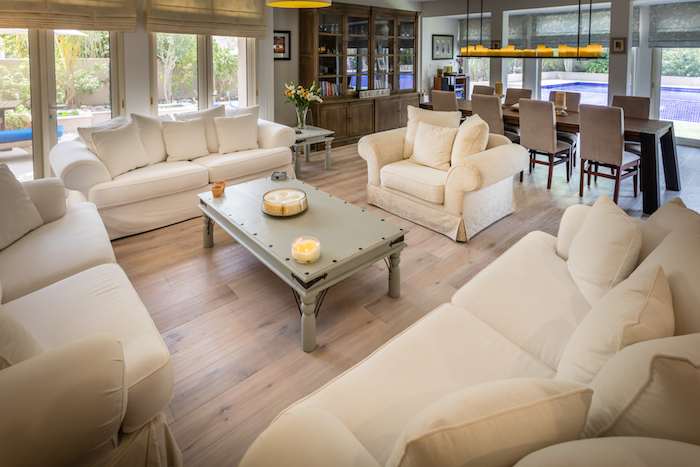 Q: How has your experience been with Nordic Homeworx?
A: We have had a great experience. Your team was great as well, especially your sales representative, Philipe. From the time we went to choose the flooring he was fabulous and very patient. We took a while to choose the floor and went back and forth many times. Your installation team was also perfect, your installation manager Jamil was great. Even later on we had a few issues and he came and sorted it out, actually even a year later. There aren't many places you get this kind of customer service in Dubai. I recommend you to loads of friends, everyone who walks into this house falls in love with the flooring.
Q: Were you concerned about your dog when buying your floor?
A: Yes, some say pets will scratch the wood floors. We've had laminate flooring before, but we've never dealt with real wood flooring, so we were a little bit concerned seeing as the floor is an investment. But it is definitely suitable; very easy to maintain and we've had no issues with our dog at all. In fact, it's nice because it has grains and grooves in it – it gives our dog a good grip to walk on. He loves it!
Q: What made you choose Kährs Oak Oyster in particular?
A: Our existing floor was a rosewood-coloured floor and we wanted something light to brighten up this house. Oak Oyster is absolutely beautiful. The older it gets, the colour changes for the good, and looks even more rustic and vintage. It's in our bedrooms as well, and we're really happy with it; it's got a really good feel to it. We walk barefoot on the flooring and it just feels so good! It took us a bit of time to choose the floor because we thought we should go for a darker floor for upstairs. We like walnut too, so we brought planks home from the Nordic Homeworx showroom of both floors and sat with them for a week to help us decide. But then we went with the lighter one eventually and kept the same floor throughout the entire house for a more bright and streamlined feel.
In fact I had a client who wanted to sell her house, she was a friend as well, and she came over and just fell in love with our flooring. Eventually she said, "I'm not selling my home, I'm just going to put this flooring down and it will look fabulous!"
Q: Is there any aspects in particular that you think makes us stand out from other companies that you have dealt with during your renovations?
A: You guys definitely stand out in customer service. That's something you don't get very often in Dubai. We have a fair bit of experience because we have been living in Dubai for 14 years and have had a lot of renovations done in our house.
Nordic Homeworx and the people we dealt with, such as Philipe and Jamil, have been a real pleasure and so accommodating. Just great customer satisfaction including good after-sales, even a year later. That's not what you expect from a lot of companies here. Definitely a big deal when you're getting work done in your home.
Q: Did you find our installers were professional and respected your home?
A: Yes, we didn't have to do anything. They brought the vacuum cleaner, cleaned, oiled and made sure everything was done to the highest standard. The team that was brought in really knew what they were doing. They were really professional and very fast. They even completed the installation faster than expected, which was excellent. The entire downstairs was laid out in three days, including the skirting. It was perfect!
Q: Seeing as you are in the real estate business, in your experience, do you feel that wood flooring increases the value of a house?
A: I definitely think so. The houses that I sold with wood flooring really got a very good price – not only because they present really well, but also because buyers can appreciate the fact that a flooring has been in the house for an extended amount of time and is still in really good condition. The wood floor also gives off an immediate homey feel to it, which is really inviting.
When I've taken clients to view houses, you can see they find a house with your wood flooring much more appealing than a house of the same style, look and layout without it. The moment they walk into a house with Kährs wood flooring, the client is always wowed by it.
You can view all the images of Natasha's beautiful Arabian Ranches home here.
#woodflooringcompanydubai #woodflooringdubai