Designing Smart: Crucial Things To Consider Before Purchasing Wooden Flooring
September 1, 2021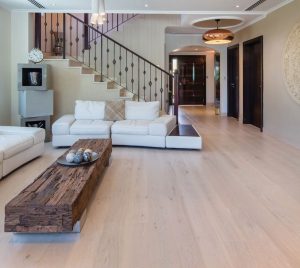 In recent years, wood floors have become one of the most popular home flooring solutions. They are attractive and adaptable, making them a popular flooring option for many households; since there are various wood flooring companies and options available, it can be difficult to decide which hardwood flooring type to choose. Installing a hardwood floor is unquestionably worthwhile and will provide you with satisfaction. However, these are the crucial things to consider before purchasing wooden flooring.
One of the primary things to consider when choosing a hardwood floor is the style of your home. All interior features of your home, including cabinetry, trim work, and any other design elements that should complement the floor, should be considered. Keep in mind that a traditional style works well with hues of hardwood that combine darker and lighter components. Designers often propose various popular combinations, but you might be able to come up with your own for some very unique effects.
Shades, patterns, and textures
Always choose the flooring that complements and enhances the room's overall look that you plan to use wooden flooring. Choose a colour scheme, pattern, and texture that complements the walls and furniture, such as browns, greys, and whites. Examine the many colour options and make a shortlist. Natural hues are the all-time favourites, with shades of grey at the top of the latest trends.
The pigmenting and finishing options are some of the most critical factors for hardwood flooring installation. While wood floors are lovely in their natural state, staining them can add colour, highlight the grain pattern of the inside wood, and improve their aesthetic appeal. Finishing is also advantageous because it influences the floor's maintenance and keeps it from becoming unclean. Most paints, varnishes, and finishes may be applied to practically all types of wood; hence, it is better to choose based on your personal taste and desire.
Depending on the subfloor in your home, which is usually plywood, particleboard, or a concrete slab, you may choose to install a specific type of hardwood flooring. You can utilize either solid hardwood flooring or engineered hardwood floors if you have a plywood subfloor. If your subfloor is particle board, you'll have to replace it with plywood before installing solid or engineered wood flooring. Prior to installing solid wood flooring on concrete slab floors, plywood must be installed.
When choosing a hardwood floor solution, consider the amount of everyday wear and tear it will receive, as well as the density and hardness of various wood species. For example, if you have children, pets, or live in a high-traffic area, a hand-scraped and distressed or wire-brushed hardwood floor will hide small scratches and dents better than a smooth polished hardwood floor. If you want a smooth polished hardwood floor, choose a dense and tougher wood like Brazilian Cherry or Domestic White Oak with a matte finish, which will hold up better under heavy traffic.
Before you buy new flooring, think about where you live and what kind of environment you have. For example, dry air in cities like Dubai can damage certain flooring types. Therefore, choose a material that can survive warping and discolouration in the dry heat. Hardwood Flooring, Engineered Hardwood Flooring, and Luxury Vinyl Flooring are more recommended for dry and dusty climate regions.
Apart from the above, you must also consider the brands and flooring solution supplier quality. If you desire to finish your home flooring with wooden touch, we can offer you the best as per your intention