Incorporating Scandinavian and Industrial Interior Design in Your Home
February 12, 2020
Word is that the latest interior design architects are turning towards Scandinavian and industrial design aesthetics to create spaces that strike a quiet balance between minimalism and raw rustic charm, and turns out it's a match made in heaven. The contradiction between the quiet wintry European Scandinavian look and the blunt detailing of industrial design turns out to be a great match surprisingly. However, before we look at how these completely different styles of decor hit the right chords, let's take a look at what their individual styles comprise of.
Scandinavian Style
Scandinavian style blends a variety of textures, colors, and contrasts to create sleek, elegant spaces that feel warm and inviting. There is an understated beauty in homes that use this style. Scandinavian decor prides itself on using simplicity and minimalism in its design aspect while still retaining its functionality. This design was first noticed in the 1950s. Architects and interior design fanatics appreciated the craftsmanship because they were able to strike a balance between exercising restraint when opting for decor choices while still managing to make a space cozy and inviting. Soon after, Scandinavian style and hygge decor could be seen in the top design and architectural magazines. Although when it comes to minimalism, the use of blankets, throws, pillows, and fabrics are almost non-existent, Scandinavian style combines all these additions with functionality perfectly. Inspired by the Danish hygge philosophy (comfort, convenience, internal security, and balance) and Swedish lagom ( translated as: 'just right'), Scandinavian style combines natural fabrics with minimalism. So there's plenty of room for wood, cotton, linen, and even leather
The most prevalent colors in this style include neutrals such as gray, beige, and white with a contrasting color like royal blue at times. Of late, gold has become a popular choice to add a touch of elegance and originality. Scandinavian design incorporates neutral colors since they tend to highlight the elegance, functionality, and simple sleek lines of the design. Leaning towards the use of natural elements, Scandinavian design takes a page from home designs in Sweden, Finland, Denmark, and their neighboring countries. It's one of the most popular choices for homeowners looking to maintain a wintry aesthetic in their home design. While the elements within the space will be muted with neutrals like white and gray, the walls are usually designed with solid colors that make them easy to blend with the rest of the design features. In addition, playing with textures becomes easy and interesting. Despite Scandinavian style incorporating an almost bare look, you can always opt to keep things fun by installing signature brass pendant lights or a printed textile to juxtapose the existing colors.
A distinctive feature of Scandinavian decor is that furniture is spaced out to allow each piece to stand out. Spaces that seem blank or empty corners are equally important as they help tie the space together. The addition of an art piece or an over the top chandelier is very calculated so as to not take away from the sublimity of the space. Usually, when one opts for Scandivian style, they're looking to keep the color muted. However, for a dramatic twist, the use of a darker tone such as black is sometimes used to accentuate lines and curves of the decor. It also adds a pop of color among a sea of neutrals.
Industrial Design
Typically known as the 'warehouse look', industrial design takes inspiration from lofts and factory elements. Mixing a variety of textures such as wood, concrete, and metal, this design looks at creating a sort of 'unfinished look'. It takes inspiration from industrial sites and creates a residential place reflecting those tones and layouts. While some might think it's not practical to mirror the same exact styles of lofts and industrial interiors in cramped spaces, elements of an industrial design can be successfully executed in home design creating an extraordinary space. Similar to Scandinavian design with respect to the dominant colors being whites and shades of gray, the industrial aspect takes over with the use of steel, tin, and copper. Other distinctive elements include exposed brick walls, metal finishings, and heating pipes as well as the use of wires and sockets on the surface. With so many elements, the ultimate basis of industrial design is still minimalism. However, just like Scandinavian design, the element of functionality is starkly visible. The industrial elements are incorporated in terms of the accessories used such as a metal chest for clothes or a factory lamp to add an individualistic style.
Currently, an increasing number of homeowners are looking at industrial design to add a rustic charm to their space. With simple, effortless room designs, industrial design relies on large spaces and using corners without overwhelming the eye. While the industrial design is imaginative and laidback, it holds similar principles of Scandinavian design in bringing a space alive.
Scandi-Industrial Style
Scandi-Industrial style is essentially the blending of Scandinavian and industrial designs, giving rise to the Scandi-Industrial style. Both these styles work so well individually as it is, but together they blend beautifully. With common threads such as neutral tones, textures, and functionality between them, the Scandi-Industrial style mixes natural and raw materials to bring about a beautiful architectural contradiction. It takes the basics of Scandinavian design and puts an industrial twist to it. So think muted color tones, spacious layouts, and sleek lines. Spaces that implement this design are typically minimalistic, with plenty of large windows. You'll also notice neutral colors as the backdrop for this type of decor. The best part about opting for a Scandi-Industrial design is that it doesn't overwhelm.
Incorporating the Scandi-Industrial design in your home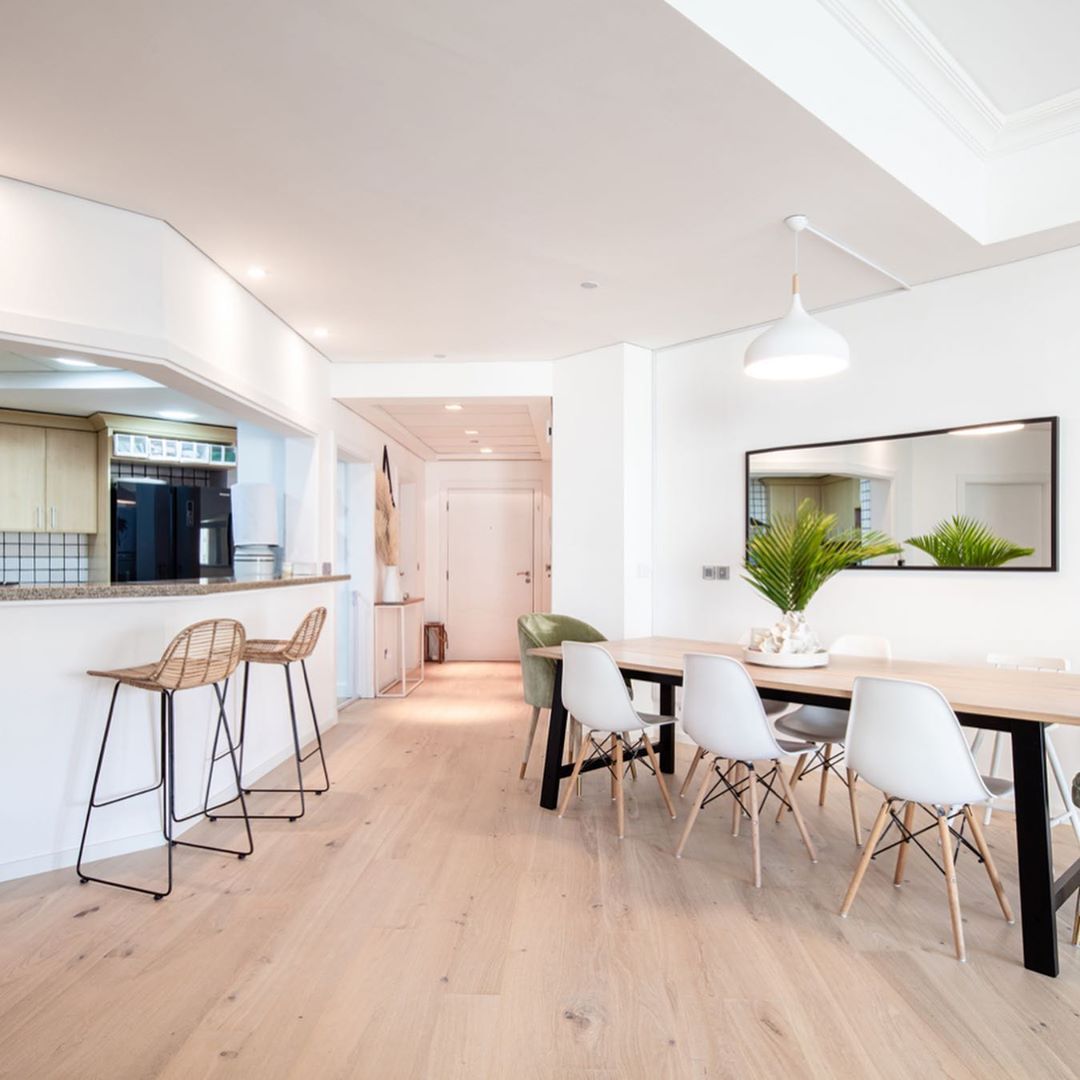 When blending any two styles, it is essential to decide on a dominant style and a supporting one. If you go for a 50-50 design, the resulting look will be confusing, overwhelming, and over the top. However, with the Scandi-Industrial design, both styles are easy to mix and actually make for the perfect combination. For example, if you choose to have a Scandinavian style as the dominant one, you could opt for Scandinavian furniture or a brick wall in white and add some industrial lighting to balance out the industrial aspect. However, ensure you don't also add a stark contrasting color in this case for it might not look cohesive.
If you're looking to make industrial design as the dominant one, you can opt for exposed light bulbs. However, think more along the lines of installing fixtures that highlight the chic bulbs rather than removing existing light coverings. If you're not comfortable with exposed bulbs, you can also choose to include pendant lights or sconces in black.
Another smart way to mimic the Scandi-Industrial design is to incorporate it into your flooring. So contradicting white walls with charcoal wood flooring and some black picture frames will bring the room together. You can also do this the other way around by using ash wood flooring along with brick walls if your dominant style is industrial design. 
While both these styles are gorgeous in their own way, blending them in smart ways will give your space a unique look irrespective of whether you like minimalism or industrial elements. To learn more about how to design your space and hardwood flooring options, get in touch with Nordic Homeworx at https://nordichomeworx.com/.