The Ultimate Guide To Stylishly Matching Furniture With Your Wooden Flooring
September 8, 2021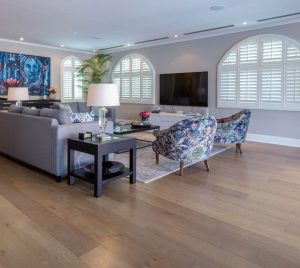 One of the most effective methods to enhance the value of your property is to update the flooring. Although design trends come and go, a solid hardwood floor is always a good choice for your home flooring. Choosing furniture to match your wooden floor is more than just picking a colour and design that appeals to you visually. There are several additional factors to consider if you want your new wooden floor to blend with the rest of your home. However, these are the main things you must consider when matching furniture with your wooden floor. 
Finding Undertone of Home Wood Floor
The difference between an ash blonde, taupe-brown, and a deep orange terrazzo is an undertone, which is the colour's underlying tone. Understanding the undertones is the first step in selecting how to furnish a room to match your wood flooring.
Every style of wood flooring has a warming, cooling, or neutral undertone that helps identify the room style. In addition, small tones of yellow, orange, red, grey, or brown can be found in the finish of the wood. Once you've identified the underlying hue, use the colour wheel to find colours that complement your wood flooring. Blue tones, for example, help to balance wood with yellow or orange tones, while green contrasts beautifully with true brown flooring. Below we have listed basic styling formulas according to the tone.
Warm tones:

Yellow, Orange, and Red-colored woods go well with other warm-toned items. To put it another way, if Wood Flooring has red undertones, most red-toned furniture will look wonderful in the room as well.

Cool tones:

Shades of Green, Blue, and Purple are considered cool colours. If there are grey shades on the

Wooden Floor

, it is recommended to use cool tones for furniture.

Neutral tones:

Black, White, Brown, and Grey are neutral colours, and usually, wooden flooring has brown undertones. You have to choose neutral tones of furniture to stylish your home from your Furniture Company.
Follow Themes, Art and Lightning 
Light to medium coloured home wood flooring makes the perfect background for dramatic objects. Because the floors themselves are quieter, this is the time to experiment with a brightly coloured Furniture item. For instance, your light, cool-toned floors will look great with a mossy green sofa.
Dark Wooden Floors can be seen in many homes in Dubai. Decorate this kind of area using simple colours like white, black, and cream because the floor is dark. If you want to add some colour, go for furniture like red with colourful art. 
Your thoughts of living in a comfortable rustic home will come true with plenty of dark warm-toned wood with antique furnishings. Soft, warm lighting will enhance the already calm design, so go for table lamps and accent lighting instead of harsh overhead fluorescent bulbs.
Try the Contrast
Two contrasting tones that are similar in colour but somewhat different in tone can easily collide. For example, it's often difficult to know what's best for wood kitchen cabinets and wood floors. Instead of trying to match your wood floors to your wood cabinets, go for two opposite wood-tone combinations, such as white oak cabinets and deep brown wood flooring.
If you have a dark wood table on lighter coloured flooring, you may make your focal point pop by contrasting it with the flooring and other items in the area.
Contrast is also created by mixing textures. If your wooden home flooring is clean and polished, balance them with softly rounded furniture that matches the room's texture. If you are looking for suitable wood flooring for your home, Check out Nordic Homeworx, a Dubai-based engineered wood flooring company. We have a variety of flooring designs that can match your furniture and home style. Contact us or come in to speak with one of our specialists in the hardwood flooring industry