Home Décor: Elegant Curtain Ideas That Go Extraordinarily With Your Wood Flooring
August 1, 2021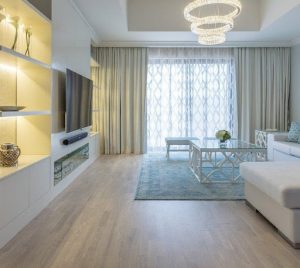 Wooden floors are one of the most sought-after choices for flooring- thanks to their warmth and timeless appeal. It's also a great versatile choice for both practicality and good looks, bringing a beautiful texture to kitchens, living rooms, bedrooms, and entryways. The natural material never fails to make a statement in nearly any space of home flooring. However, one challenging aspect of wooden floors is figuring out how to decorate them with suitable curtains that will go extraordinarily with them, without disturbing its exclusive sleek look. To help you out with this, we have listed three curtain ideas that will get along perfectly with your wood flooring. 
Choose A Complementary Color Palette
First things first, the curtain color is the ultimate game-changer on how your curtain will match the wooden floors. Generally, the best way to determine which color will go with your wooden flooring is to look at your floor's undertone. Depending on the type of wooden flooring you have installed, there are different undertones you'll be able to notice or that are reflected by the floor for lighting. 
Usually, these undertones vary from hints of yellow, orange, brown, red, or gray. So, for example, different shades of green curtains will perfectly complement a wooden floor with brown undertones- and will give an earthy and refreshing outlook to your house, especially if your home is ventilated well with natural lighting. 
Once you have figured out the underlying hue, you can apply the principles of complementary color to find one that matches your wooden flooring. This is generally a standard interior principle used to maintain a consistent color palette and pattern around the house. 
Go Monochromatic For A Minimal Look
Go monochromatic if you have a classy and simple taste and don't want to stick to the typical interior color concepts. Monochromatic colors will perfectly blend with any wood flooring and will naturally uplift the "Simple and Chic" look to your house- added with the right touches of lighting. 
Also, make sure to choose plain or textured curtains to boost your monochromatic curtain look. Your choice of monochrome colors can be a shade that goes with your floor color or any undertone color it reflects. Prints don't work well with the chic look so try to avoid them. 
Generally, a monochrome theme is meant to be subtle and simple. However, suppose you feel it's a little underdone to justify the look you expect out of the curtain. In that case, you can always upgrade the curtain rod to add more details or use other curtain accessories like a wooden curtain ring, wooden bracket, tie band Hooks. refflet hooks, tassels or so on.
Contrasting Themes For A More Modern Look
If you've opted for a more traditional type of wood floor and want to add a modern touch to your house with your curtain, then opt for contrasting colors. One best way to do this is to consider if your wood floor is light or dark. Typically for lighter wooden floors, it'll be best to contrast it with light-colored curtains and vice versa. Then, to further the modern look, try different prints with contrasting colors and complement them with appropriate cabinet choices, lighting, and other accessories. 
You can also use one of the undertone colors of your wood floor and then opt for curtain prints in that color for a more modern and dramatic look. This curtain idea is apt for homes that feature simple and matt wood flooring with little shine.