Living Room Decor: 5 Carpet Ideas That Will Match Exceptionally With Your Hardwood Floor
June 1, 2021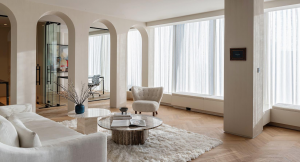 Hardwood flooring indeed has its own charm to it. However, many of us struggle to decorate a hardwood floor with the perfect carpet ideas, especially with carpet ideas that can bring out an Instagram-worthy look for the living room. While it's certainly not rocket science to learn- it takes a few careful steps and details. Here we have listed 5 carpet ideas that will match exceptionally with the hardwood floor in your living room. 
Focus on the color 
Color is the first thing you need to consider to match a carpet to your hardwood floors. While it's a good rule to always opt for subtle under-toned colors to create a comfortable vibe in your living room, you can always visualize the colors that will go well with your hardwood floor.  
Usually, carpets with darker shades of brown, green, or mustard will go well with light-colored wood floors. And if your living room has a deep and dark hardwood floor, consider carpets with neutral tones like grey and white. 
The comfort of the carpet matters 
The right type of carpet has the power of turning your house into a home. The living room is a place in the house where we all seek comfort and warmth. So it's always good to match the hardwood floor of your living room with a more cozy carpet. 
Hand-knotted carpets and sheepskin rugs are meant to be the pinnacle of comfort, style, and beauty. These types of carpets will secure your feet, and provide warmth while perfectly matching with the sleek look of your wood flooring.
Add personality with patterned carpets 
If you like to go bold and brace on your living room, then it's a good idea to consider patterned carpets. Patterned carpets will not add drama to your hardwood flooring, but they will enhance the definition of the floor space. Of course, you have to choose the right pattern for it. 
Stripes can never go wrong on a patterned carpet when compared to the floral and heavy geometric patterns. If your hardwood floor has horizontal lines, then place the carpet vertically – this adds more margin and style to the floor and the living room altogether. 
Don't overdo with the carpet 
The reason why many of us fail with the right carpet assembling onto our wood floor is that we try to overdo it, hoping it'll look grand in a living room. This makes the carpet become the focus of the entire area, taking out the charm of hardwood flooring. 
Remember that less-is-more on a hardwood floor. So make sure you choose a carpet that will complement the flooring but is also minimal enough not to overpower or cover the hardwood floor extensively. Hiding the hardwood floor with a carpet design will not do justice to the floor or bring out elegant results. 
Match the carpet to your floor's age 
Harmonizing the carpet with the age of your hardwood floor is key in bringing out a decent look to your living room. If your hardwood floor is old – complement it with vintage-style carpets that will match well and add a touch of personality to the room. 
On the other hand, if your hardwood floors are new and still have a shiny and sleek look, try patterned and colored carpets to enhance a modern look. 
When there is a mismatch between the age of your floor and the type of carpet you use, it usually brings out an overwhelming look that doesn't look convincing. 
If you're looking for an engineered wooden flooring company in Dubai, contact us at the Nordic Homeworx. With the most refined materials in hand, our panel of professionals can help you bring the hardwood floor of your dreams into life.